Please login to add your wishlists.
Pushkar Same Day Tour from Jaipur
Pushkar Same Day Tour from Jaipur – Pushkar, India's oldest town, is a must-see for art and craft enthusiasts. You may visit the…
Overview
Itineraries
Includes
Excludes
Gallery
Booking
Downloads
Pushkar Same Day Tour from Jaipur -
Looking for Same Day Pushkar Tour from Jaipur ? If yes, you are right place. Pushkar is India's oldest town, is a must-see for art and craft enthusiasts. You may visit the most famous Brahma temple while in this city. It is the world's sole temple dedicated to Lord Brahma (the Indian God of Creation). It is the only site where Brahma worshipers may be found. In the city of Pushkar, you may appreciate the breathtaking peacefulness and partake in the sanctity among other devotees. "Tirth Raj" - the king of pilgrimage destinations - is one of the five sacred Dhams. It is located 11 kilometres north of Ajmer.
Because of its numerous temples, Pushkar has been a popular tourist destination for foreign visitors in recent years. It contains five main temples, several minor ones, and 52 Ghats where pilgrims from all over the subcontinent come to wash in the hallowed waters of Pushkar Lake. Every year many tourists book the Pushkar Camel Fair Tour during October to December. If you are planning for Rajasthan Tour the place is must to see. 
You will be picked up from your hotel in Jaipur and taken to Pushkar. Along the way, you'll stop at Ajmer to see the famous Ajmer Dargah Sharif, which is devoted to Sufi Saint Khwaja Moinuddin Chishti. After viewing the renowned temple, you may shop for traditional clothing, bangles, Rajasthan stitching, antiquities, and more at the local market. VWI Tours pick the travelers for Same Day Pushkar Tour from Jaipur. After that, return to Jaipur to catch your flight.
Highlights
Hotel pick-up and drop-off are free.
Private air-conditioned vehicle chauffeured in English is provided
Instant Confirmation
Excellent value for money
Family-friendly
Extra information
Booking confirmations are sent at the time of booking.
At tour locations, there is no particular dress requirement. Please be cautioned that for places of worship, you should dress appropriately; shorts and sleeveless shirts are not encouraged.
There will be some walking; good walking shoes and sunglasses/sunscreen are strongly suggested.
Reservations can accommodate up to 35 individuals.
A minimum of one person is required for each reservation.
Below is the Itinerary of the Package. 
Itineraries
Day 1
Jaipur-Pushkar-Jaipur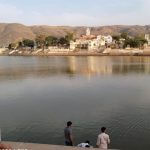 This is one day trip starts early in the morning, volunteers travel in an air conditioned vehicle with travel specialist driver. The drive is about 3 hours long, depending on traffic.
On arrival at the destination, enjoy the camel ride, ride through sandy tracks, passing through remote villages. This takes around 90 minutes.
After camel ride you would be provided lunch. Post lunch you are free to visit the lake, temple, markets and in the evening visiting Savitri Temple by cable car, as this situated atop of the Ratnagiri Hill.
After finishing all sightseeing we would drive back to Jaipur
Includes:
Travel by private Air Conditioned Car
All Goverment Taxes,
Toll Charges,
Parking & Driver Fee
Camel Ride
Lunch
Cabal Car Fee
Excludes: 
Any other personal expenses
Pricing Name

Start

End

Group (Min-Max)

Pricing
Want to send trip information to others?