Please login to add your wishlists.
Same Day Ranthambore Tiger Safari Tour from Jaipur
Ranthambore Tiger Safari Tour Join our 1 day Tiger Safari trip from Jaipur.  The trip, "Tiger Safari" as the name suggests, takes you…
Overview
Itineraries
About Destinations
Includes/ Excludes
Gallery
Reviews
Booking
Same Day Ranthambore Tour from Jaipur
Join our same day Ranthambore Tiger Safari tour from Jaipur.  The tour, "Tiger Safari" as the name suggests, takes you on an intensive tiger tracking for you to see these majestic predators walk around in glory, come forward for this adventurous trip you should try out a tour to a National Park. Here is offering you a great deal to visit one of the largest national parks in India, Ranthambore National Park.
Tour Fact File
Tour Duration: 1 Day
Tour Availabilities: All year around
Locations: Ranthambore, Sawai Madhopur.
Tour Activities: You will explore the National Park on an open roof vehicle tracking for tigers.
What is included: Travel by Private Air conditioned car, Lunch in Ranthambore, Canter/Jeep Safari.
What is not included: Any personal Expenses.
Ranthambore National Park is one of the biggest and most renowned national park in Northern India. Ranthambore national park was declared a wildlife sanctuary in 1957 and in 1974 it gained the protection of "Project Tiger". It got its status of a National Park in 1981. It is also counted as one of the India's famous heritage site as it consists with pictorial ruins that dot the wildlife park.
Everyday there are many tourist go in the Jungle by hiring the Jeep or Canter to see the Tigers, Leopards, Striped Hyenas, Sambar deer, Chital, Nilgai, Common or Hanuman langurs, Macaques, Jackals, Jungle cats, Caracals, Sloth bears, Black bucks, Rufoustailed Hare, Indian Wild Boar, Chinkara, Common Palm Civets or Toddy cat, Common Yellow Bats, Desert Cats, Five striped Palm Squirrels', Indian False Vampires, Indian Flying Foxes, Indian Foxes, Indian Gerbilles, Indian Mole Rats, Indian Porcupines, Longeared Hedgehogs, Rattles, Small Indian Mongoose, Small Indian Civets and Common mongoose. The Jungle open for tourist every morning and evening for 3 hours to do Wildlife Safari.
Below is the itinerary of the Package :- 
Itineraries
Day 1
Jaipur-Ranthambore-Jaipur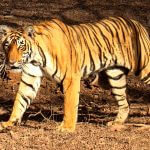 This is one day trip starts early in the morning, participants travel in an air conditioned vehicle with travel specialist driver. The drive is about 3 hours long, depending on traffic. On arrival at the destination, you would be provided lunch. Post lunch your Jungle Safari exploration takes a higher level of excitement; an evening ride enables more chances for sighting the animals. You explore the deep jungles of the National Park on an open roof vehicle, tracking for tigers. This mission lasts for around three hours.
After finishing the Jungle Safari we would drive back to Jaipur.
Includes:
Travel by private Air conditioned car
Lunch in Ranthambhore
Canter/Jeep Safari
Pricing Name

Start

End

Group (Min-Max)

Pricing