Please login to add your wishlists.
Join Yoga Class in Jaipur
Join Yoga Class in Jaipur Join one of our small and very authentic yoga class held every morning in the heart of the…
Overview
Trip Itinerary
Trip Includes
Trip Excludes
Gallery
Reviews
Booking
Downloads
Join Yoga Class in Jaipur
Join one of our small and very authentic yoga class held every morning in the heart of the 'Pink City' Jaipur. Yoga Guru Ashok Sharma welcomes participants for the last 20 years and is well known by local people who come to his house to learn yoga as well as tourists mostly travelling to the city for volunteering work. His class focusses on asanas and pranayama, practiced in 90 min sessions. Everyone is welcome, so be part of a traditional yoga experience while enjoying India.
Our Yoga Class runs everyday in Jaipur, India. Jaipur is the capital of India's Rajasthan state. It evokes the royal family that once ruled the region and that, in 1727, founded what is now called the Old City, or "Pink City" for its trademark building color. At the center of its stately street grid (notable in India) stands the opulent, colonnaded City Palace complex. With gardens, courtyards and museums, part of it is still a royal residence.
Tour Fact File
Tour Duration: 1 Day
Program Availabilities: All year around
Locations: Jaipur
Tour Activities: In this class you will practice traditional yoga, pranayama (breathing techniques) and different asanas by Yoga Guru Ashok Sharma.
What is included: Hotel pickup and drop-off, Bottled water, Morning tea, Snacks, Driver/guide, Hotel pickup and drop-off, Yoga Mat, Tea, Shower Facility, Changing Room.
What is not included: Breakfast, Food and drinks, Any kind of personal expenses.
Below is the Itinerary of the Package. 
Itineraries
Day 1
Time : 8:00 am
Yoga Activity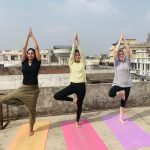 This class covers most asanas as practiced in traditional yoga. It also gives an introduction to pranayama (breathing techniques). This yoga experience is held in an authentic style by a Jaipur local.
Enjoy a complimentary hotel pickup transfer to your yoga teacher in Jaipur and drop off facility once the class ends. We are located in the center of Jaipur so wherever you are in the city you can expect drive for less than 30 mins.
The Yoga class runs everyday in morning for 90 mins in from 7:00 a.m to 8:30 p.m. In evening it starts from 5:00 p.m to 6:30 p.m.
We have our own Yoga center where we conduct regular classes. In these classes, anybody can join as Individual or in groups of any age, gender, caste or any nationality.
Includes:
Bottled water
Morning tea
Snacks
Driver/guide
Hotel pickup and drop-off
Yoga Mat
Tea
Shower Facility
Changing Room
Excludes:
Food and drinks
Breakfast
Any other personal expense
Pricing Name

Start

End

Group (Min-Max)

Pricing
Want to send trip information to others?